Add Ecommerce to Websites with Embedded Forms
The internet makes it easy to start an online business for virtually any product or service. Many people find affordable hosting and easy site builders to take part in the online economy, though collecting orders can still cause problems. Email-only processes are unreliable and collecting credit card information may drive away security-sensitive shoppers. Luckily Formsite has solutions to add ecommerce to most websites.
Embedding Formsite order forms makes online ecommerce easy for both store owners and shoppers. The process for most online shopping breaks down to a few steps:
Collect order information
Calculate order total
Include extra fees or discounts
Payment processing
Order fulfillment
Build Ecommerce Forms
Formsite enables form owners to build order forms and payment forms using many item types. Common form items include Short Answer and Long Answer items, Radio Button, Dropdown, and Checkbox items. Order form items include pricing items, percent items, and specialty order form items. These specialty items include the Coupon Code item, quantity items, and a Running Total item. Also, some items allow for tracking inventory, too.
Using the common and order form items, form owners build the form to collect the visitor's information and order details. The pricing items and quantity items contribute to the order total, and the percent and Coupon Code items modify the total.
See the tutorial video and more information on building order forms.
Collecting Payments
After the order form is complete, the next steps include choosing and enabling a payment integration. PayPal, Authorize.net, and Stripe allow form owners to collect payments securely and easily.

Using an integrated payment option also allows the form's Results Table to track the status of each transaction. Viewing the payment status in the Results Table lets form managers see if any problems occur at a glance. Once the payment is successful, processing the order and completing the service can occur.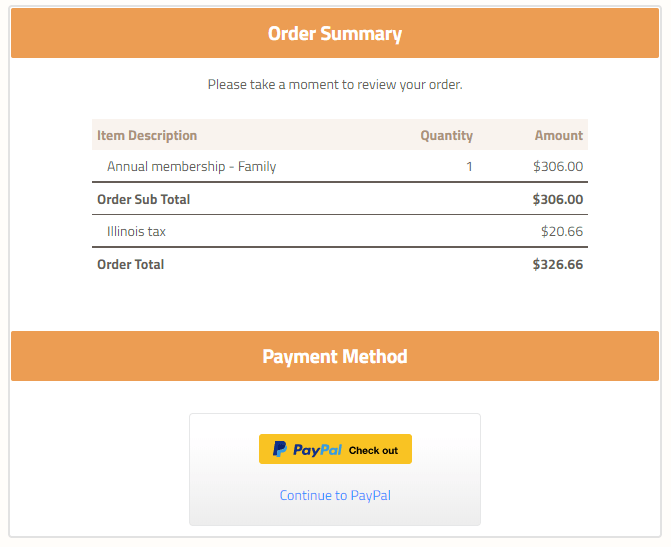 Add Ecommerce Forms to a Website
Adding the ecommerce form to the site can be done by following a few easy steps:
Start by creating a page on the new site where the form will appear.
Next, edit the page's HTML code or add an HTML plugin, depending on the site's programming method.
Locate the form's embed code from its Share page.
Copy the code and paste into the HTML of the site.
Use a browser to go to the new page and verify everything works as expected.
Embedded forms appear as part of the host page and are a fast way to add ecommerce to any site. Feel free to contact Formsite customer support with any questions.