Collect Signatures on Forms and Surveys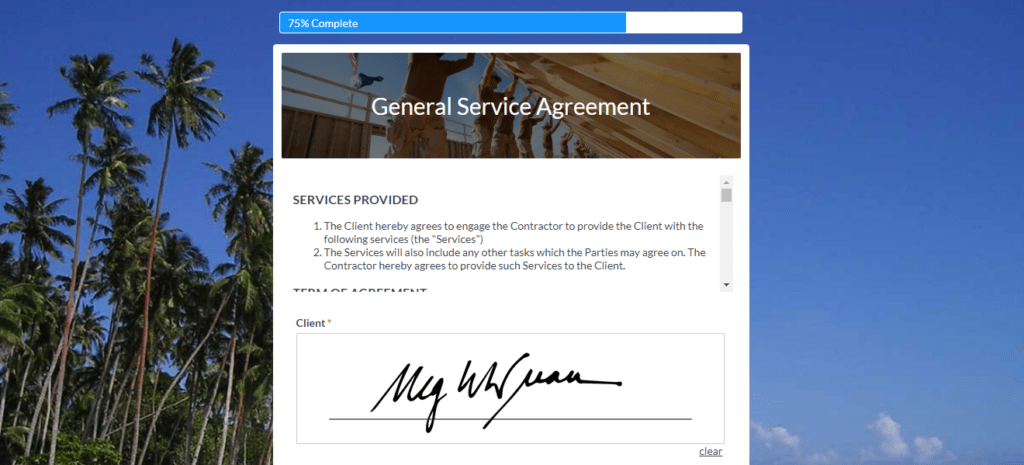 Some online forms need a signature, such as contracts, application forms, and approvals. The form captures the signature through a mouse or touch-enabled device and saves it as an image. Formsite's Signature item allows forms at all account levels to collect signatures on their online forms and surveys.
Signatures appear as links in the form's Results Table like other images. Clicking the link to the image in the Results Table opens the image for viewing. Signature images share some similarities and differences with files uploaded to the form:
Same:
Both appear as links in the Results Table
Images and Signatures display as inline images in the Table format. This is the default format for viewing individual results, Notifications, and PDFs.
Mapped and displayed with custom PDFs and Workflows
Different:
Cannot delete them from the Results Table like uploaded files
Signatures do not get sent through the file integrations
Collect Signatures
The Signature item lets form owners collect signatures from form visitors. The reasons for collecting signatures can vary but usually fall into three categories:
To prove a person's presence
As an approval or agreement
To add gravity to an important decision
Signatures on contracts, for example, mean that the contracted person is present and agrees with the terms.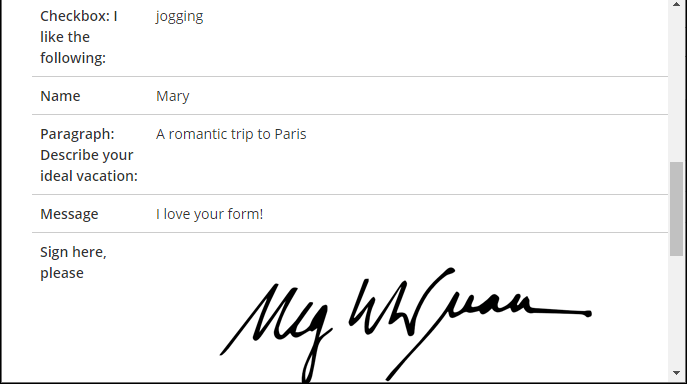 Approval Signatures
A common use of the Signature item involves the Workflow with approval requests and approvals. The beginning of the Workflow has the request sent to the approver, who approves or denies. Often the Signature accompanies the approval as proof of the approver's identity.
The Signature item collects the signature image that follows the same rules as other attachments. If the Workflow continues, passing the image to later steps works by mapping the Signature to a Hidden Field item. That mapping sends the Signature image's URL to the next step, where an Image item uses the URL to show the Signature. See all about using images with Workflows.
A Note About Legal Considerations
We are unable to offer legal advice regarding signatures and recommend contacting your legal council with any questions.