Deleted Forms Recovery & Help Managing Forms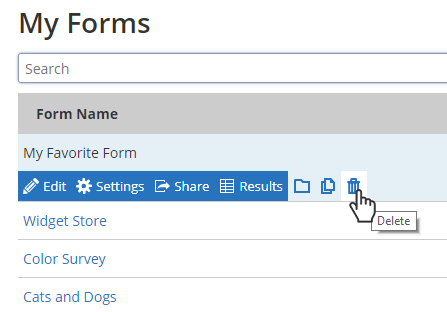 Many account owner's duties revolve around managing the service level limits. All Formsite service levels have limits on the number of forms and results allowed. Keeping ahead of the limits means deleting forms and results to make more room. On some occasions, deleted forms occur on accident and need restoring. What happens then?
Recovering Deleted Forms
Deleted forms are recoverable for 7 days. Restoring forms also restores results and attachments that were present when the form was deleted.
Forms appear on the My Forms page in the forms list. This list allows account users to edit the form items, settings, and results through the form's links. The icons show how to add forms to a folder, copy the form, and delete the form.
Clicking the delete icon sends the form to the Deleted forms folder. For 7 days, the form and its results will remain in the Deleted forms folder, after which time it's permanently deleted.
How to restore forms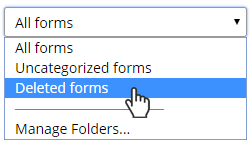 Log in and go to the My Forms page
Locate the folder dropdown at the top-right of the forms list
Select Deleted forms from the dropdown
Click the Restore link on the form to restore
Only forms that are recoverable appear in the list. If the form does not appear in the list, it is not able to be restored.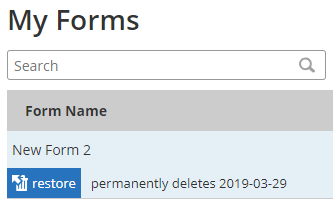 Other Deleted Data
Changed or deleted form items: Deleting or changing form items is instant and permanent. Changing the form items with results in the Results Table may also change the results.
Deleted results: Deleting results is instant and permanent. Be sure to export the Results Table before editing the form if the form contains saved results.
Updating Forms
Care must be taken when updating forms with saved results. Changing the text or order of multi-select items also changes the answers for the saved results. Changes made to the form items are instant and irreversible, so follow these procedures to update forms:
Recommended method:
Export the Results Table for local use
If the form collects uploaded files, also export attached files from Results -> Export, then click the Attachments link
Delete results and attachments from Results -> Delete Results
Change the form items
Alternate method when deleting the Results Table is impractical: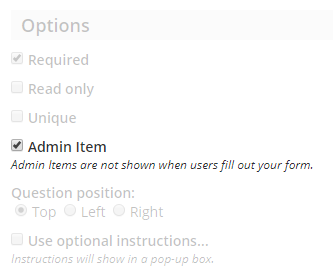 Copy the item to change
Edit the copy
Set the original item to Admin, which hides it from the form but keeps its results intact