Email Attachments and Images in Notifications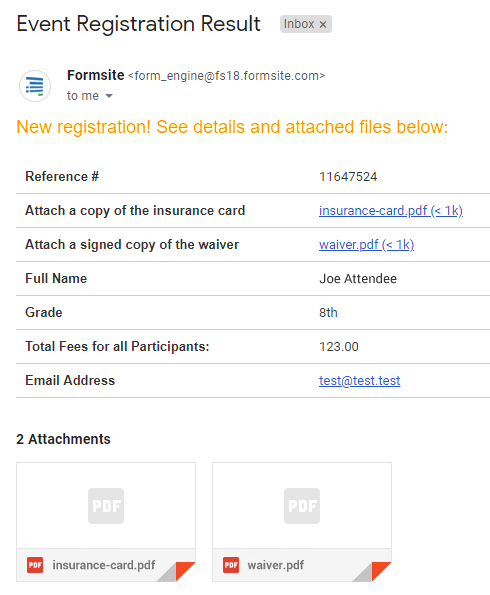 Form owners collect uploaded files through their forms using the File Upload item. These uploaded files display as links in the Results Table where they can be viewed and downloaded. Additionally, a convenient option for paid accounts includes sending an email Notification after each successful submission. These emails can contain the result information and a custom message, along with the uploaded files as email attachments.
Notification attachments can be either:
Email attachments
Images & links
Results as attachments
Email Attachments

There are two possibilities when talking about email attachments:
Attaching uploaded files works by adding a File Upload item to the form then enabling the setting on the Form Settings -> Notifications page. An example is an employment application form that lets the applicant upload a resume. Enabling the email attachment will send the Notification email with the uploaded file as an attachment.

Sending attachments limits the total email size to 20 MB. The Notification will attach all files until it reaches that limit, then any attachment that goes over that limit will not be included.

If the Notification result format is set to PDF, the system sends the result PDF as an attachment. The size of that PDF attachment is included in the 20 MB limit, also.

Sending a defined attachment with the Notification email is not possible. An example would be a Notification email that sends an attached file that you specify with each email. It's not currently possible to attach files in this way, but you can include links in the email message.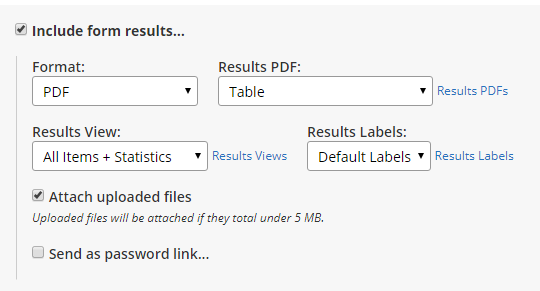 Images & Links
Adding a custom message to the email with or without the result data allows form owners to include images and links to external files. The text editor in the Notifications page uses the same editor as the form builder. Add images and links to files using the text editor's Image and Link buttons. Enter the destination URL into the link's 'source' field, which can be from the User menu -> Files & Images page or any other accessible location.
Results as Attachments
The Notification's results formats include the default Table format and the Populated Form link. Accounts with service levels at Pro 2 or higher can also send the result as a PDF attachment. The PDF attachment is the only built-in way to send results as an attachment.