Encryption for All Files & Data for Formsite Forms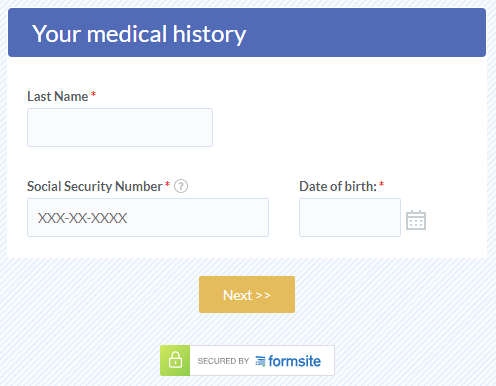 Data security is one of the most common topics for many organizations in the market for an online service provider. Formsite led the industry several years ago in the shift to secure forms for all services—including Free accounts. We are again at the front of the movement to provide encryption for all form data for all accounts.
As privacy concerns escalate and more people rely on online services, the need to protect sensitive information has increased. PCI and HIPAA are established security protocols to protect credit card and health information, and Formsite believes that data falling outside of those categories must also be protected.
Formsite has therefore taken the initiative to protect all form data for all customer accounts by applying encryption to all database information, including uploaded files.
Encryption basics
When talking about data encryption, there are some basic concepts to consider:
Encryption during transmission is provided by the browser and the website. The secure connection between a computer or device and the destination site (such as a bank or Formsite) protects all communication from interception. The browser displays an icon or message at the beginning of the URL indicating whether the connection is secure:

Http connections are not secure
Https connections are secure

Encryption 'at rest' refers to the data stored on the server in the database and file storage. The database encrypts and decrypts the data automatically as needed during normal interactions with forms and results. The 'at rest' data includes all data collected by forms, as well as account information, log files, etc.
Encrypted files

All files uploaded to the forms are saved in the user's file storage space and encrypted for the highest protection. This includes files uploaded to the account's User menu -> Files & Images, as well as files uploaded to the form itself. As with the data storage, the Formsite system decrypts files automatically as needed.
Note that files copied to third-party locations by an integration like Google Drive, Dropbox, or Box do not fall within Formsite's encryption coverage. These services may provide encryption options for protecting files that are outside of Formsite's scope.