Event Forms: Tips and Ideas to Increase Engagement
Forms for events are essential at all stages. Examples include event registrations, sample requests, follow-up requests, and post-show surveys. A commonality across all successful event forms is being clear and easy to use.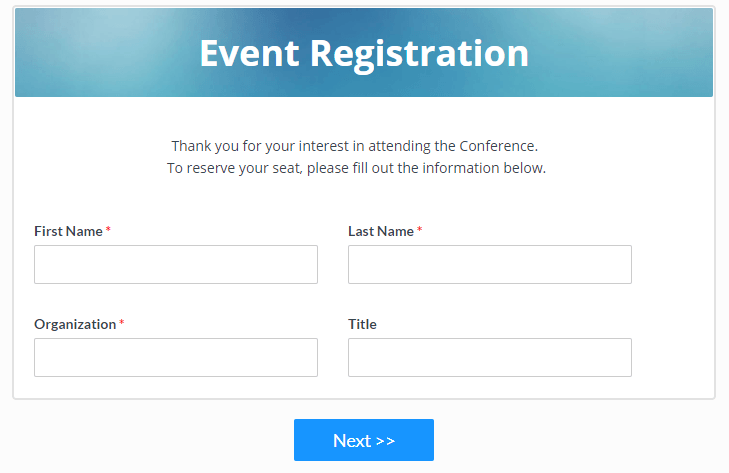 Events of all kinds share common form needs, like what information to collect and how to grab a visitor's attention. Those combined attributes make up the concept of 'engagement'. Making an engaging event form doesn't have to be rocket science.
Event Registrations
Sign-up forms for events need to contain the event information and collect the needed visitor information. Items like Name, Email Address, and Company Name are typical, as are items collecting demographic or other information.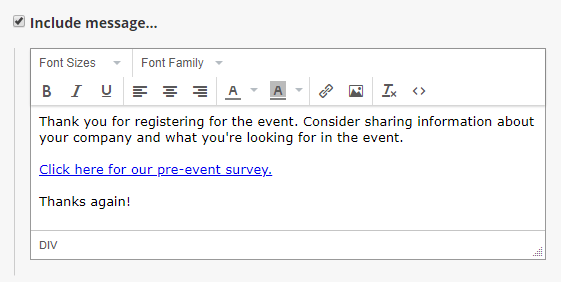 Shorter forms are easier to complete so consider making two forms. For example, form 1 can contain the user's information, and the link to the follow-up form can appear in a Notification email.
Pro tip: Use the Results PDF feature to make generating event materials painless. Set up PDF templates for attendee badges, vendor materials, etc. and send them automatically via email.
Event Forms
Forms during the event work well for attendees to request more information. These forms appear at vendor booths and common areas, and allow visitors to ask for more information or post-event contact.
Use an integration like Google Sheets or Mailchimp to automate some tasks during the event. The Mailchimp integration can add users' email addresses to a list to make following up easy.
Pro tip: Set up the 'kiosk mode' on the form to return to the beginning after each submission. Being ready at all times is the key for maximizing engagement.
Event Follow-up
Following up after the event typically uses email to ask how to improve the event or to provide promised contact. If the Mailchimp integration was used during the event, sending personalized email will be easy. Create surveys and use Pre-populate links to personalize them for each contact.
Pro tip: See how to quickly generate Pre-populate links from a results export, then use the custom Excel file as a data source for a mail merge.