Example Form Templates Show Items, Features, and Logic Examples
Formsite's new online form templates make it easier than ever to build forms and surveys fast. See the new Example Form templates for examples of form items and popular features. View the templates and copy the form to an existing or new Formsite account.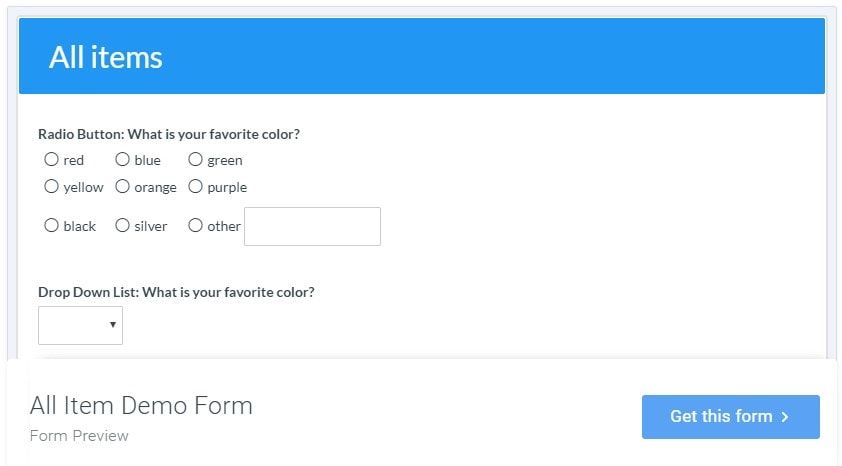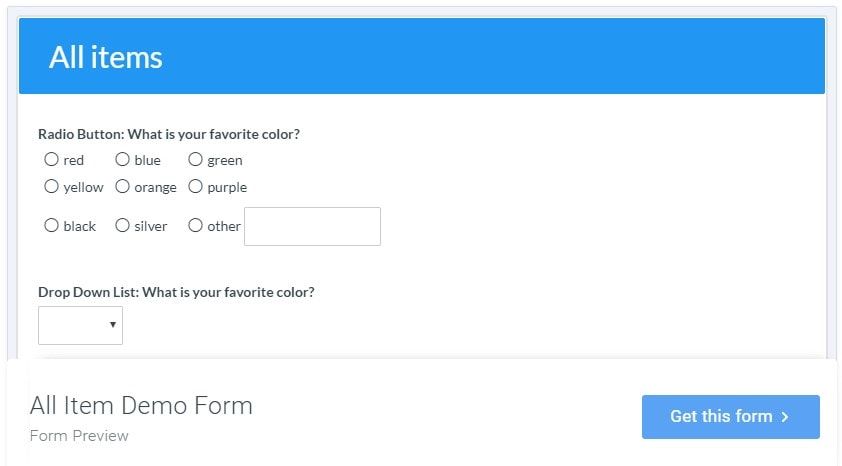 Some Example Forms include:
The Example Form templates include premade forms showing many popular features and how they work. Listed in the Type category on our Templates page, the example templates let new form owners see how to use items and features.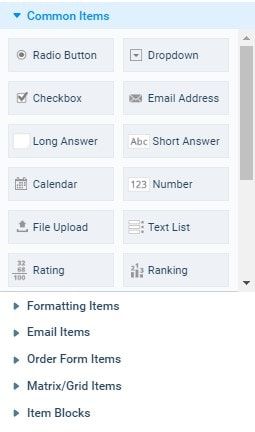 Item Example Templates: Items are the parts that make up a form. For example, a Radio Button item is an item containing the question (or label) plus one or more radio buttons next to each answer. Some items are easy to recognize like Dropdown items and Checkbox items, while others are more complex. Calculation items, File Upload items, Rating and Ranking items, and Matrix and Multi-scale items are good examples.
See the All Item Demo for a template that includes every item available, or see the other item example templates for specific items.
Feature Example Templates: Features are actions available to forms or results. Examples include Notifications, Save & Return, Results Filters, Payment Processing and Integrations.
Some features require certain form items, like payment processing requires order form items. Take a closer look at the feature example templates to see how each feature works.
Conditional Logic Example Templates: Rules use conditional logic to trigger actions. Item rules show or hide items based on conditions. Page rules skip forward or repeat pages based on conditions. Notifications also use conditional logic to trigger emails based on answers in the form result.


How to Use Online Form Templates
The easiest way to build an online form begins at the Templates page. Choosing a template is as easy as viewing the template and clicking the button to Get This Form.
Another way to find order form templates:
Log in to a Formsite account, click the Create New Form button, then see the Example Form templates.
Choose a template with items or styles like the ones needed, then click the button to start with that template.
Use the form editor to edit the template items and add or delete items as needed.
For form owners new to Formsite or making online forms, see the Getting Started video to see how the form editor works.
Find the form's link on the Share page and paste into an email or post on a website or social media site for visitors to complete.