Folders for Organizing Forms & Fast Workflow Access

Formsite account owners with many forms can take advantage of the Folders feature to enhance form organization. Located in the My Forms page, the Folder dropdown lets account owners group forms into virtual directories for fast location.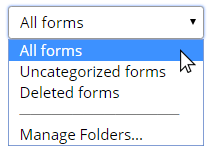 The default folder settings shows 3 folders:
All forms
Uncategorized forms
Deleted forms
Along with the default folder settings appears a link to Manage folders, allowing owners to create and manage folders and forms within. Additionally, the folder features include automated Workflow support and custom folder tools.
Workflow Folders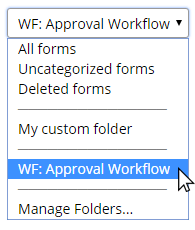 The Workflow feature has the ability to connect multiple forms together to create a workflow. To make locating Workflow forms easier, the Folder feature creates a folder for each Workflow. Each Workflow folder contains the Workflow's linked forms for more efficient management.
The folders can include any Workflow types like approval Workflow forms or one to many Workflow forms.
Built-in Folder Features
The Folder feature attempts to reuse the last-used folder settings for easier use. The Folder memory will reset itself after a period of time or after logging out.
Deleted forms move from the My Forms list to the Deleted folder. Form owners can restore deleted forms for 7 days before they are permanently deleted. While in the Deleted folder, the deleted forms retain any undeleted results and attachments.
Restoring forms from the Deleted folder occurs by clicking the Restore link on the individual form. If the form does not appear in the Deleted folder, it is not available for restoration.
Folder Management
Clicking the Manage Folders link allows form owners to create and manage each folder in the account. Management tools include support for creating a new folder, editing folder names, and deleting folders.
Managing forms within each folder works by clicking the folder icon on the form in the My Forms list, then selecting the folder. Each form can appear in more than one folder, which lets account owners create many groups.