Form Templates and Tips for Getting Started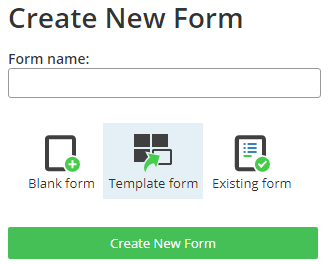 New form owners sometimes need help getting started building their first online form templates. Order forms, registration forms, surveys, etc. can be daunting while still in the idea phase, and often all that's needed is a nudge in the right direction. A good place to start learning about form building is by using one of Formsite's form templates, like our online survey form template or our website evaluation form example.
The templates allow new account owners to quickly see how forms are built and how they work. Our examples and templates have around 100 premade forms and surveys that cover a broad range of possibilities.
The form templates are found on the Create New Form page and are currently categorized by topic and feature.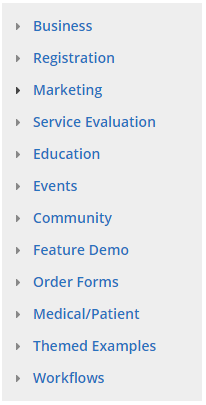 Topic templates:
Business
Registration
Marketing
Service Evaluation
Education
Events
Community
Medical/Patient
Feature templates:
Feature Demo
Order Forms
Themed Examples
Workflows
How to make a contact form using form templates
Click the New Form button and choose the Template form option
Expand the Business topic category and click the Contact Form template
Review the items provided and click Create New Form
Use the form editor to customize the form
Options:
Sharing the form:
Share the form link in an email, social media post, article link, etc. by using the Form link on the form's Share page.
Embed the form in your site by copy/pasting the embed code at Share -> Embed Code wherever you are able to add HTML. Using a website builder like WordPress, Wix, or Squarespace? See our article about embedding using a website builder.