Friendly Pricing for Clear & Easy Form Services
Formsite makes it easy to be a customer with our friendly pricing, guaranteed satisfaction, and pay-as-you-go plans. Among major fears reported by online customers, the fear of hidden charges and confusing contracts tops the lists. Our service costs are completely transparent and are set up to avoid those fears.
Free Trial
The cornerstone of Formsite's friendly pricing is the 14-day Free Pro Trial. Try Formsite for 14 days with no obligation, no fees, and no credit card required. The Pro Trial lets all new customers try the system at the Pro 2 service level for two full weeks. Create forms, set up email notifications, and collect results while testing the integrations, Workflow, payment processing, and more.


What happens when the trial period is over? The forms, results, and settings will remain as-is while the account automatically reverts to the Free service level. The account can either continue to be used at that service level or upgraded to a higher service from the account's User menu -> Billing page.
Upgrading
Service levels are available for monthly or yearly service with a range of limits on the number of forms, results per form, etc. Account owners can upgrade the service level at any time, and the system automatically calculates the prorated cost of the higher service while keeping the renewal date the same.
Downgrading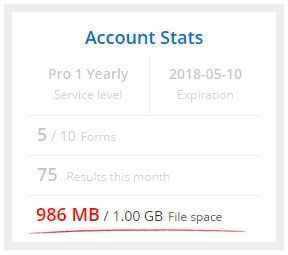 Account owners can downgrade the account service without fear of losing data. For customers who need the service for less than a year, the monthly service option allows for month-to-month services. Formsite encourages seasonal customers by allowing the freedom to start and stop the service as needed. Cancelling or downgrading services never automatically deletes forms or results, regardless of the new service level limits.
Note that forms may not operate as designed if they exceed any limits or have enabled features that require a higher service level. For example, if a form has integrations enabled and the account is downgraded to Free, then those integrations will not work at the Free service level.
Friendly Pricing Guaranteed
Every service upgrade and renewal comes with our 30-day Money Back Guarantee: If the service doesn't meet the requirements or is unsatisfactory in any way, an account owner can request a refund for any upgrade or renewal within 30 days.
Custom Account Settings

Formsite accounts at higher service levels (Pro 2+) have the ability to create custom services that meet their unique needs. Some examples are:
Custom limits: Increase the standard limit on the number of forms, results per form, file space, or Sub-users by either combining service levels or upgrading limits a-la-carte.
Consolidated billing: Connect multiple account renewals with a single invoice and a shared renewal date.
White Label: Provide Formsite's form-building service as a custom-branded service, allowing account owners to offer form building to their customers.
HIPAA services: For customers who need HIPAA-compliant data collection and processing services. Enterprise customers can choose to sign the Business Associate Agreement (BAA) to collect and protect Personal Healthcare Information (PHI). Read all about it at https://formsite.com/hipaa-compliant-form-builder.html.