HIPAA Compliant Form Building
HIPAA stands for the Health Insurance Portability and Accountability Act of 1996, which provides detailed instructions for safeguarding Protected Healthcare Information (PHI). Any organization that collects and stores this information is subject to these regulations to ensure that the information remains secure.
HIPAA Services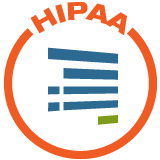 Formsite now offers an enterprise-level account configuration for full compliance. We have entered into a Business Associate Agreement (BAA) with our cloud service provider to provide compliant services, and we will complete a BAA with customers who require the services.
As an online service provider, Formsite has a wide range of possible uses and our flexibility prohibits us from claiming compliance with our standard service levels. In order to enable the HIPAA-compliant account settings, an Enterprise service level is necessary. For more information visit our HIPAA information page.