Multilingual Forms & Surveys with Formsite
Form owners with the need for multilingual forms and surveys have options with Formsite. Many organizations have users who speak different languages due to location or targeted market. Solutions for multilingual forms include creating multiple manual versions or automating the translation.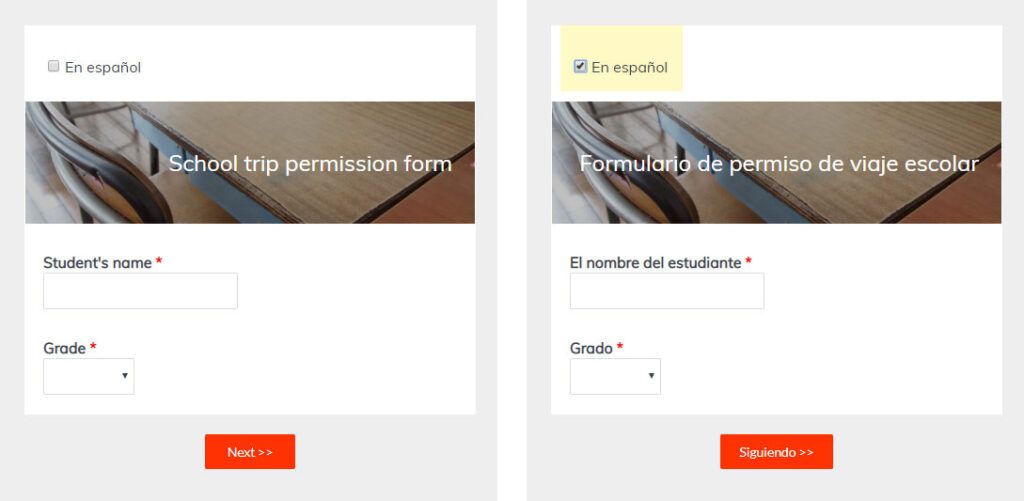 The method used depends on whether the translated text exists or if it is possible to get easily. If the translation is not easily obtained, the translation service is usually the best option.
The most common methods for making multilingual forms and surveys are:
Create copies of the form as a different language
Make a single form with rules to show items and/or pages in different languages
Use a translation service like Google Translate to automate the translation
Multiple Forms
The first method requires the form builder to provide the questions and choices in each language. This method presents the form visitor with a language choice, then directs them to the appropriate form:

Create the first form using a single language
Make a copy of the form in the My Forms list by clicking the copy icon
Edit the form to change the questions and choices to the next language
Go to the Form Settings -> Custom Text page to provide translated system text
Repeat for all languages
Making the language chooser
Create a new form
Add a Dropdown or Checkbox item with each language
Go to Form Settings -> Success Pages and make a new Success Page for each language.
Set each Success Page to use the Redirect URL format, then add each form's link as the URL
Go to the Rules page and make a new page rule to skip to the correct Success Page when the Dropdown item contains that language
As an alternative, the form owner can provide direct links to the forms if the preferred language is already known.
Multilingual Forms
To create a single form with multiple languages, use one of two methods:

Provide versions of each item in each language and use Rules to display the selected language
Use the Google Translate option to let the form visitor choose their desired language
The manual method lets the form owner choose to either display all languages or provide a language chooser. Like the multi-form method, this method uses a form item to let the visitor choose the translated version:
Create the form using one language
Copy each form item and change the text to the translated version
Add an item at the top of the form asking the visitor if they prefer the other version
Set rules on each item to show based on the answer to the language selector
For the automated Google Translate method, click here to see our article with instructions.