New Pro Trial Account Option
We have added a new option when signing up for a new account: Pro Trial. This is a complimentary 14-day trial of Pro 1, our most popular level of service.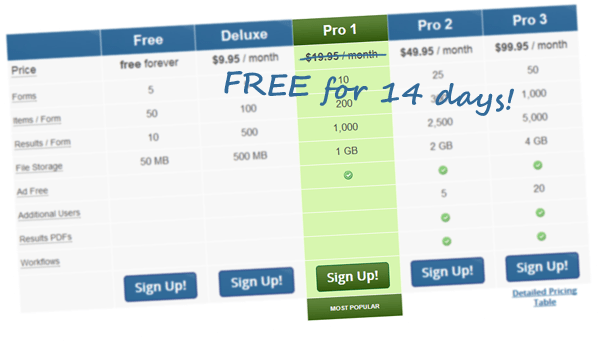 This new option will let you try out Professional-level features, including:
There are no commitments and no obligation to renew. The trial lasts for 14 days. You are free to upgrade to a paid level of service at any time, letting you keep access to all of the features and limits of the Pro level. If the trial completes and you choose not to upgrade or renew, your account will simply revert back to the Free level of service, leaving your forms and results intact.
If you have not tried Formsite yet, Sign Up for a new account today and take advantage of the new Pro Trial option!