Registration Form Templates for Fast Online Forms
Making online registration forms is easy with Formsite's templates. Categories include online order form examples, marketing forms, education forms, events, and registration forms. See how to make a signup form fast using registration form templates.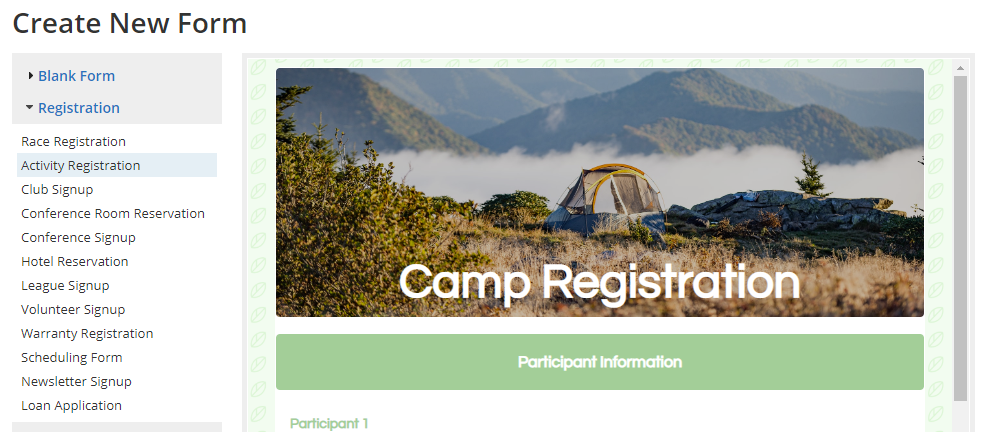 Types of Registration Forms

Registrations can cover activities and events, or individual registrations like application forms. Some of the popular registration form templates are:
Registration Form Templates

Common items that all registration forms contain are:
Individual identification (name, for example)
Contact information (email, phone, etc.)

Many registration forms also include other items to help segment individuals. Some other information commonly collected include:
appointment dates
membership or subscription type
multiple individual information
demographic information
group affiliation
Customizing Form Templates
Formsite's templates show a broad range of registration and signup forms that include example items. These templates are great for getting new form owners started and customization is easy with the form builder.
Once the form owner chooses a template, customize the items and styles using the form editor. Add or delete items, edit template items, or even copy items from other forms and templates to make the form perfect.
Sending Emails

Sending auto-reply emails is a common practice with many registration forms. Consider the individuals' inboxes by adding simple 'thank you' messages to the Success Page instead.
Many email recipients mark emails as spam that don't contain useful information. Even forms containing opt-in items risk marking as spam if the email is a simple receipt.
Add useful information like date and time reminders and contact links to email messages. Also add Checkbox items with opt-in choices, then only send to opted-in visitors. See how to use conditional logic with Notification emails.
If you need more forms, take a look at all of our online form templates.