Release notes: Track Visitor Fall-off, New Themes & More
Our latest release includes the normal behind-the-scenes updates along with a few visible ones, including:
Fall-off Statistics
New Themes & Colors
Coupon code limit option
New Analytics Tool
The leading news in the latest release is the addition of a new analytics chart showing form visitor fall-off, which shows where in your form your incomplete results occur. This chart is available with forms containing multiple pages and shows the highest page your visitors complete.
This is useful when optimizing your forms for maximum conversions and when troubleshooting high abandon rates or incomplete results.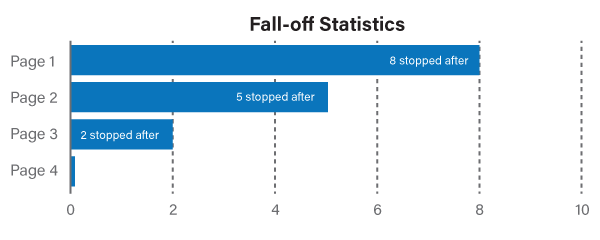 New Styles
As a continuation of our overall style update, this release contains a new group of themes and colors for your forms. Available under your form's Style page and Theme tab, the themes give form designers a fast way to select an overall style for their forms.
Selecting a theme is a great starting point when designing forms, and the styles can be further modified on the Customize page to create a completely custom and refined form style.
Also included are new color options that have been modernized to give form designers a quick way to make great looking forms.
Limit Coupon Code Uses
An exciting option for order forms has been developed as a way to limit the number of uses for a coupon code. The Inventory setting has been added to the Coupon Code item, which lets form owners set the maximum number of times each code can be used.

Need a one-time use code? Set the Inventory to 1. Want to make your code available for the first 10 visitors only? Set the item's Inventory to 10. Coupon codes are a great way to track where people are coming from and this new option lets you create more urgency with a limited number of uses available.
Let us know what you think!