Restore Incomplete Results to Resume Completing Forms
Incomplete results occur when form visitors do not complete the form through the last submit button. Sometimes they experience technical trouble and lose their network connections, which cause the form result to be abandoned. Another possibility is that the form requires long answers that cause visitors to spend a long time on each page. Regardless of the reason, there are times when we need to restore incomplete results so the owners can resume editing them.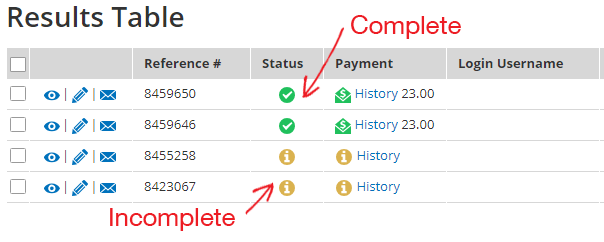 What causes incomplete results?
The system will create the result when these events occur:
The form is submitted. The normal one-page form creates the result with a Complete status when submitted successfully.
The multi-page form goes from page 1 to page 2. To save the answers from page 1, the system needs to create the incomplete result and saves the answers.
A file or image is uploaded to the form. Uploading files creates incomplete results that contain the link to the file.
Restore Incomplete Results
If a form visitor fills out a partial result and somehow loses their connection, the form owner can restore the incomplete results using Save & Return.
The process for allowing form users to resume editing an incomplete result is:
Go to the form's Form Settings -> Save & Return page and enable Save & Return
Create an account for the user under the Accounts area, or send the user the link to create a new account
Go to the form's Results Table and locate the incomplete result
Click the Username cell to see all users for the form and select the appropriate one

The user can then log in to the form and continue editing the result.
Incomplete Payments
There are times when the successfully submitted order form shows an incomplete status in the Payment column. The most common reason for an incomplete transaction is when the user clicks to pay but doesn't complete the payment.
It is not possible to re-attempt an incomplete payment. The only solution is to start the form from the beginning.