Send Results to Dropbox From Online Forms
Formsite and Dropbox have worked together for a long time to send uploaded files from online forms to a Dropbox folder. This update lets form owners send results data along with uploaded files. Combined with the Results Docs features, forms can send results to Dropbox as PDF or Word documents after every submission.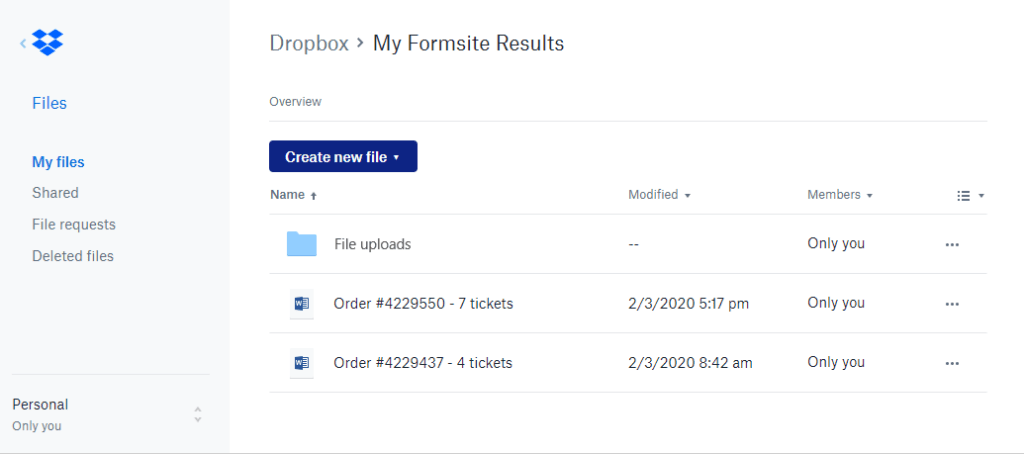 Dropbox provides a shared folder for any device to access at any time. When adding new files or updating existing ones, the changes apply to all folders on all devices.
Common uses include team collaboration, backup copies, and real-time notifications for new files. The cloud storage features of Dropbox allow form owners to create powerful team workflows. Some features of Dropbox's cloud storage service include:
Sharing files and folders
Permissions for each user, file, and folder
Custom naming and personalization using form values
Version control and file history
Send Results to Dropbox from Formsite
The Dropbox integration originally only sent attached files, which is still an option. This new feature lets form owners choose to send the Results Doc also. The settings allow for sending the result, the attached files, or both.
The Results Doc can use one of three formats:
A system-generated PDF using the built-in Table format
PDF document using the Results Docs
Word document using the Results Docs
Dropbox Settings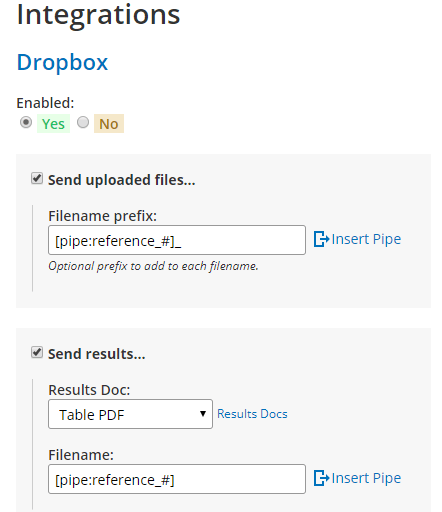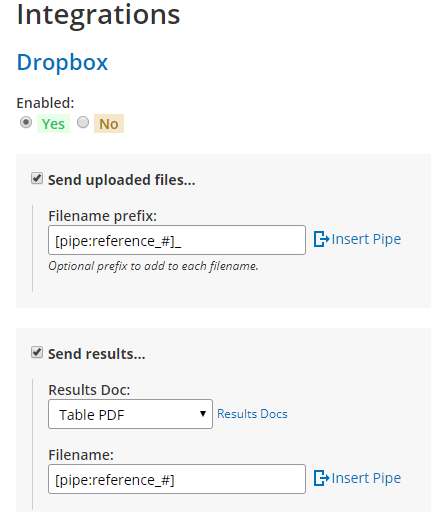 After completing building the form, go to the Form Settings -> Integrations -> Dropbox page
If the form currently uses the Dropbox integration, skip this step. For new integrations, click the Get Authorization button and complete the account authorization.
Check the box next to 'Send results'
Choose the Results Docs format. If any custom Results Docs are available then those will appear, otherwise choose the default Table PDF format.
Select the folder or enter a new folder name, and use the file name settings to tell Dropbox how to name each results file (including pipe codes)
Set a Results Filter and/or Results View if needed
Click Save
Note that the ability to send results documents requires a Pro 2 or higher service level. The ability to send copies of attached files continues to be available for Pro 1 service levels.