Stripe Payment Integration Released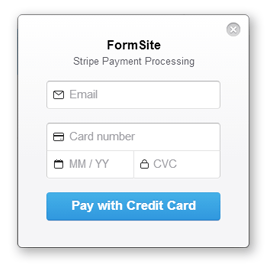 We have received many requests for an easy payment integration option. Stripe is an extremely easy to use, fast to set up, intuitive payment option that accepts the major credit cards from around the world. Their on-page payment form and simple fee structure make it a very attractive and competitive solution.
At the time of this writing, Stripe is available for customers in Australia, Canada, Ireland, United Kingdom, and United States, with most of the rest of Europe in Beta. To set up a Stripe account and to learn more about this payment option, visit stripe.com. To learn all about how to set up Stripe integration with your Formsite form, visit our documentation page.