Sub-users Setup, Permissions & Best-practices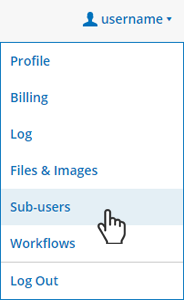 The ability to give someone access to a Formsite account without turning over full ownership is a popular and useful one for many organizations. Whether there are multiple departments that share the account or clients who need the ability to see their forms without seeing others', the sub-users feature enables all that and more.
What is a sub-user?
A sub-user is an account with access to the Formsite account, with permissions to access forms and results.
A sub-user is not a visitor to your form.
A sub-user is not a Save & Return account.
Sub-users permissions
The primary consideration when creating sub-users for your Formsite account is what level to set the permissions. Your options are:
Admin: Full access to all forms and results, plus account access to all pages except for the User menu -> Profile page
Limited, Read/write: Allows read/write access to individual forms and results
Limited, Read only: Allows read-only access to individual forms and results
Other considerations
Also available on the User menu -> Sub-users page is the ability to enable or disable the account without deleting the user's information, which is useful for seasonal or temporary users.
Limited sub-users also have the optional setting to allow new forms to be made. Disabling this option will prevent sub-users from creating new forms.
Using the two-factor authentication allows the account owner to increase the security on the account by requiring a second form of authentication via the user's mobile device. Read all about two-factor authentication.
Note that granting admin or read/write access to sub-users will also allow full access to the account's User menu -> Files & Images page and all files included, regardless of where the files and images are used.
Sub-users or Results Reports?
A frequent question is whether to create a sub-user account or a new Results Report for an associate. The difference between the two:
Sub-users allow the associate to log in to the Formsite account and export the Results Table, view and modify Notifications, optionally edit the actual form, etc.