Year End Recommendations & Tips for Formsite Forms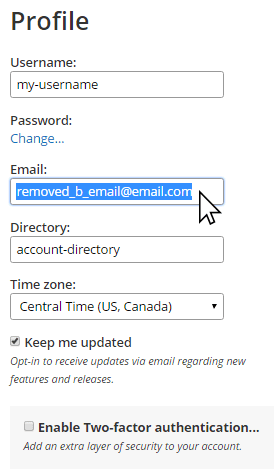 The end of the year is the perfect time to perform some account maintenance and review your forms. Overall activity is typically slower for many people, and the year end is a convenient and memorable time to make changes.
Some recommended changes and useful tips include:
Verify contact information
Results backup & maintenance
Review integration settings
Check for Mass Email Permissions
Refresh form content & styles
Year end review
We recommend reviewing your account information regularly and there's no better time than the end of the year.
Log in to your account and check the User menu -> Profile page to make sure your account email address is correct. If we have problems sending emails, you may find that your account address has been changed to include a 'removed_b'. That would indicate that the address bounced and you should verify that everything is working correctly.
Also go to your forms' Form Settings -> Notification pages to make sure there aren't any email addresses that have been changed due to bounces or complaints.
While you're at the Notifications page, check to see that your forms all have the appropriate emails set up. Do they all have auto-responses set up? What about adding an email to a new address to serve as a notifications backup?
Results maintenance
One of the most useful tasks is to visit each form's Results -> Export page to make a quick backup. Choose the Formsite Import (Backup) format and click the Export button, then save the exported file on your local computer. Be sure you're following your organization's security policy if applicable.
Review your results for incomplete statuses and consider deleting incomplete results. You can either delete results individually by selecting the row and clicking the Delete link, or you can make a Results Filter to show only statuses of Incomplete then use that filter on the Results -> Delete Results page.
Year end integrations review
Go to your forms' Form Settings -> Integrations pages to make sure any enabled integrations are not displaying any errors, like being unable to connect to your indicated account. Chances are good that you would have noticed a problem earlier if one existed, but it's always good to check.
Consider setting up a new integration you're not currently using. Does your form have a File Upload item? Set up the Dropbox integration to automatically copy attachments to your Dropbox account. Collecting leads? Set up the MailChimp or Zapier integrations to quickly add email addresses to your lists.
Mass Email Permissions
Now is the time to add a Mass Email Permissions item to your forms if they don't already contain them. This simple item makes it possible for you to quickly send emails to everyone who has submitted your form—from inside your Formsite account.
Content & style
Review your forms for any dates or other time-sensitive content that needs to be updated. Copyright dates, expiration dates, deadlines, etc.
Take a look at the new themes and styles available for your form and give your forms a quick, modern face-lift.