Copy Forms, Form Styles & Groups of Items
Formsite's branding and style tools let form designers create online forms with custom styles. Once establishing a style, form owners can use that style to stay consistent with brand standards. A common way to stay consistent is to copy forms then edit the copied form to add new items. Other helpful features include copying a form's style and copying groups of items from one form to another.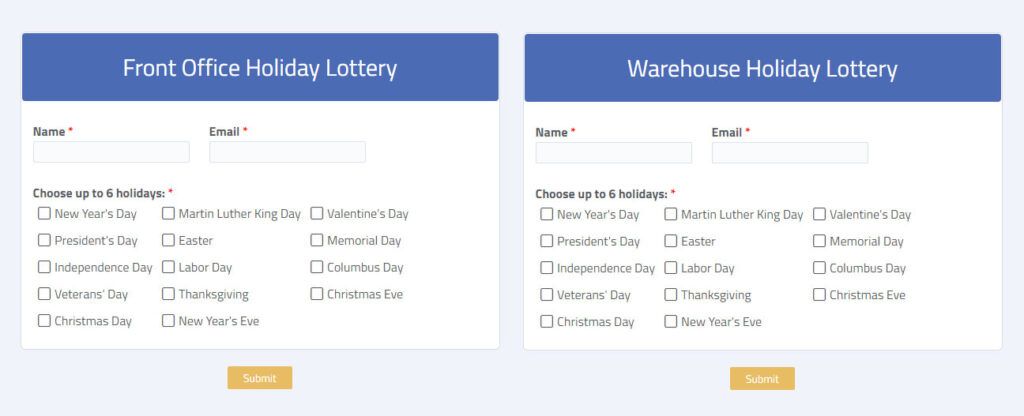 How to Copy Forms
Formsite has two ways to create a new form as an exact copy of an existing form. The easiest way is to click the copy link on the form in the My Forms list. That opens a dialog box to choose the destination from either the current account or another Formsite account.
Choose the current account to make a copy of the form with a new name. The Results Table does not copy and the form gets a new form's link to reflect the new form directory. Also not copied are any Save & Return accounts or Workflow settings.
The second way is to click the Create New Form button, then choose from an existing form from the template. This method copies the form exactly the same as the first method.
Why Copy Forms?
Aside from an easier starting point, a form owner may want to copy forms to preserve previous questions or form layout. If the form is especially complex, making a copy ensures that there is a version saved for future reference. We recommend making a copy of the form when form owners want to try something new and they don't want to lose their initial version.
Some form owners may have Sub-users or other Formsite accounts who request copies of the form. Copying the form for Sub-users allows for multiple copies of the same form in the parent account. Then the account admin can set each Sub-user with permissions to edit their copy.


Copy Form Items Between Forms
Sometimes form designers want to reuse parts of previous forms when building a new one. For example, there may be a standard agreement, product list, or survey questions needed in a new form. Another possibility is if one form needs parts from more than one form. Copying the form and deleting the unused items may not be easy.
Copy items into a form by adding a Block From Other Form item found under the Item Blocks area in the form editor. Adding that item displays the list of forms to choose from, then allows for choosing the first and last item to copy.
Update Styles for Active Forms
Sometimes form designers want to make style changes to the forms without changing the structure or form items. For example, changes to seasonal styling for winter or summer without affecting form items, rules, or integrations.
Start by customizing one form's styles
Go to the form you want to update, then edit the form and click the Style link
Click the button to Copy From Form…
Choose the source form then click Copy