Form Templates for Conferences: Before, During & After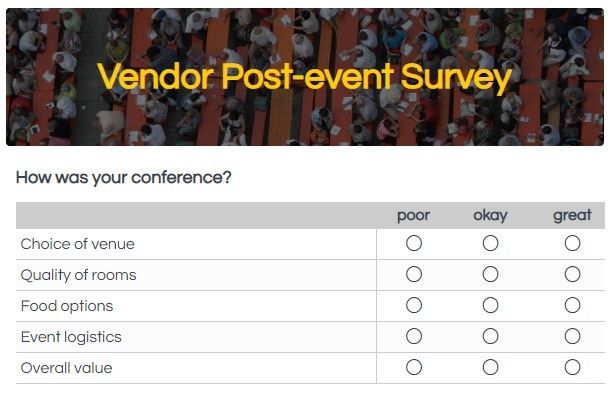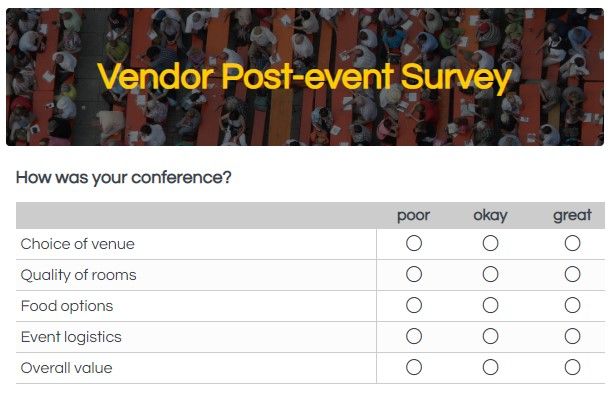 Online forms keep conferences working for organizers, vendors, sponsors, and attendees. From registration forms to follow-up surveys, get started fast with our form templates for conferences.
Trade shows, home shows, annual conferences, job fairs—every kind of event needs forms. Using forms for data collection makes for easy registrations, operations, marketing, and follow-up.
Some examples of form templates for conferences include:
Sponsor forms
Booth request forms
Artwork submission forms
Information request forms
Conference Form Features
Event forms have special needs for letting visitors choose options and often dates and times. For example, attendees may need to register for single or multiple days, with extra meeting or presentation access. Some shows include extra access for industry members separate from the public. Trade shows can also include speaker presentations, workshops, and other time-sensitive events.
Data collection and organization is critical for events due to the small window of time they're active. Formsite forms let form owners set open and close times to control when the form is available. The results are also able to control the form with the Inventory setting to prevent overselling.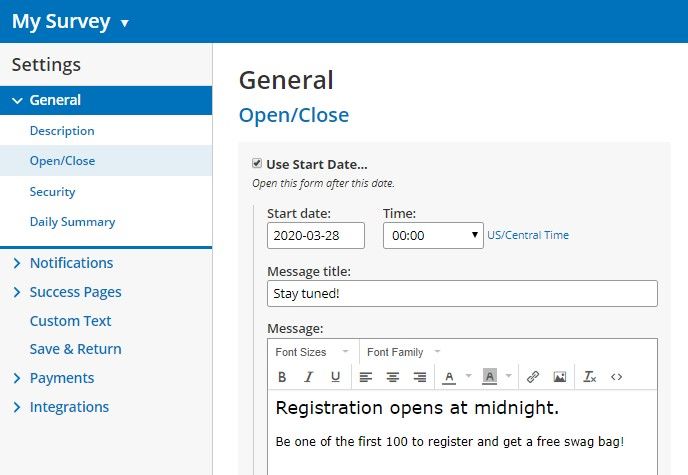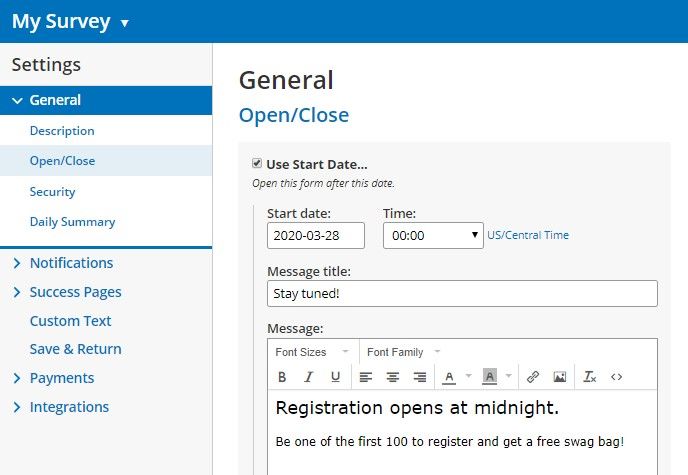 The Results Docs features let event organizers or vendors automate documents, too. With the PDF or Word DOCX documents, event tickets, maps, coupons, etc. are easily created. Connecting the form to the document template lets the form owner send completed files via email or directly to a file storage service. These services include Google Drive, Dropbox, Microsoft OneDrive, or Box accounts.
Using Form Templates for Conferences
Building conference registration forms starts at https://formsite.com/templates/registration-form-templates/. Choose a template to view its style and items and click the button to Get This Form to copy it to a Formsite account.
To find more templates for order forms, surveys, and more:
Log in to a Formsite account, click the Create New Form button, then browse the templates.
Choose a template that has some useful items then click the button to start with a copy of that template.
Use the form editor to edit the items and add or delete items as needed.
For form owners new to Formsite or making online forms, see the Getting Started video to see how the form editor works.
Find the form's link on the Share page and paste into an email or post on a website or social media site for visitors to complete.
Optionally embed the form using the provided embed code into another site's HTML.
Resources