How To Create an Online Evaluation Form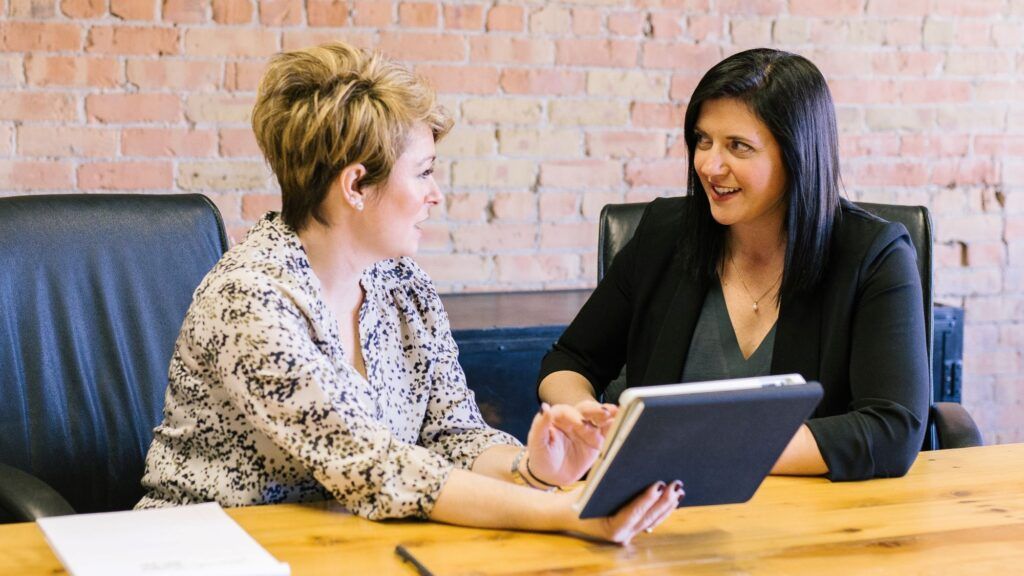 Evaluation forms make it easy to collect valuable feedback so you can discover ways to improve your process and organization. This tutorial will guide you through building the exact online evaluation form you need. Examples of evaluation forms include:
Formsite has dozens of popular and useful evaluation form templates to customize with our form builder tool. Does your company have a rating system or rating scale that's proprietary? Do you need an employee evaluation form that addresses communication skills? Are open-ended questions a better fit for the evaluation you're conducting? Each one of our sample survey templates and questionnaires is customizable to suit your exact needs. Even better, building your free online evaluation form is easy with Formsite.
Best General Practices for Creating Online Forms
Follow the best practices here to boost completion rates and gather the right information. Here are our tips for creating the best possible online forms:
Don't ask for what you don't need.
When form owners gather data unrelated to the form topic, it creates doubt in the minds of visitors. For example, if you offer professional development courses, don't ask for more than basic contact information on your training evaluation form. Asking for a social security number or a cell phone number in these situations may reduce completion rates.
Brevity is ideal.
While you may have dozens of questions to get through on your evaluation form, it helps to break them into smaller groups by including page breaks. When each page only shows a few questions, visitors are more likely to complete your form and provide you with good data.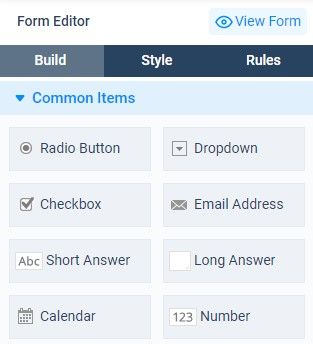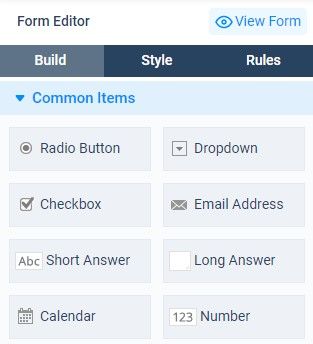 Use the form items that work best for the questions you're asking.
When you're looking for particular types of answers, you need to ask the right types of questions. For example, if you want form users to go into detail about why they do or don't like a particular product, use a Long Answer item. Form visitors can share their opinion in their own words rather than a multiple choice question. If you want visitors to give multiple answers to the same question but within particular parameters, checkboxes are an ideal tool.
Explain form fields with placeholder text.
When an answer on your evaluation form needs specific formatting, add placeholder text that shows the user exactly what they need to do. For example, for a phone number field you can include placeholder text like: "555-555-5555".
Consider using a Success Page rather than a Thank You email.
If your email doesn't contain useful information, recipients will assume they're on your marketing list and mark your email as spam. Don't miss out on valuable communication with a form user. Create a Success Page that includes all necessary followup information.
Best Practices for Creating Evaluation Forms
It's essential to go beyond general best practices for online forms to make your evaluation forms as successful as possible. Here are a handful of more best practices that apply to evaluation forms:
Know the purpose of the form.
Before you even get started, make sure the purpose of the evaluation form is clear to every stakeholder on your team. Murky goals will dilute a survey's effectiveness and may even steer you in the wrong direction.
Establish your rating scale ahead of time.
Like knowing the form's purpose, you need to know exactly how you will analyze the information gathered.
Make sure the form is easy and convenient to use.
Evaluation forms should be as easy as possible for users. They should be mobile friendly, very easy to understand, and clear in their intentions.
Design with mobile in mind.
Evaluation forms need to be mobile friendly so that accessing and completing them can happen anytime and anywhere. How do you increase a form's mobile friendliness? Follow these suggestions:

Keep form pages short to reduce scrolling.
Avoid complex item types that don't fit on smaller screens.
Avoid large images that might take too long to load.
Skip the long answers. Small keyboards make typing up paragraphs difficult. Asking for lengthy responses will reduce completion rates.
Don't assume respondents want further communication from you.
Never sign respondents up for your newsletter or marketing emails without the opt-in. Include an opt-in option like a checkbox at the end of the form that reads "I would like to receive occasional emails from <company name>." Then use Results Filters to add them to your email list when the result includes the positive answer. Using an opt-in method like this will also make your evaluation form GDPR compliant.
Make sure to optimize your CTA.
Increase completion rates with an optimized call to action that uses easy to understand action words like "send" or "complete".
Optimize your form's Success Page.
Depending on the type of evaluation form you create, your Success Page can act as a landing page inviting the respondent to further action.
Benefits of Formsite's Online Evaluation Forms
Prebuilt evaluation form templates.
Check our large template library to see if the evaluation form template you need already exists. You can then customize it with our drag and drop editor to reflect your brand.
No coding knowledge required to embed your form.
Each Formsite form comes with a unique embed code to display on your site. Copy and paste the code into your site or use an HTML widget with a popular website builder.
Secure data.
All data collected through the form and while "at rest" in our secure database uses the secure HTTPS encryption. You can increase security by using two-factor authentication for the primary account and Sub-users.
Easy data exports.
Form data is easy to export for use in other software applications like Excel, Word, Google Suite, and even your CMS.
Customized data processing scenarios with our Workflow tool.
See how easy it is to pass data to other Formsite forms for powerful connected forms and processes.
6 Steps to Create an Online Evaluation Form
Go to Formsite and click on the Sign Up Free or Free Trial button. This enrolls you in the free 14-day trial of our Pro 1 service. This allows you to create, edit, customize, embed, and share forms. Plus, the trial gives you high limits for testing and access to all Formsite integrations.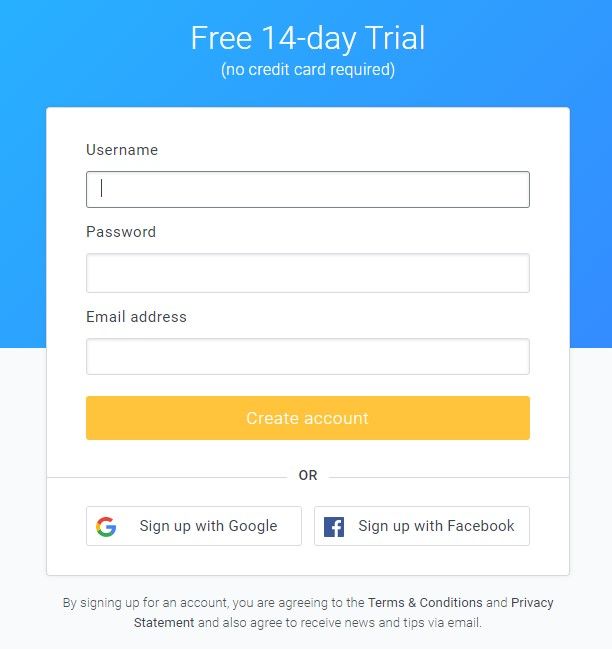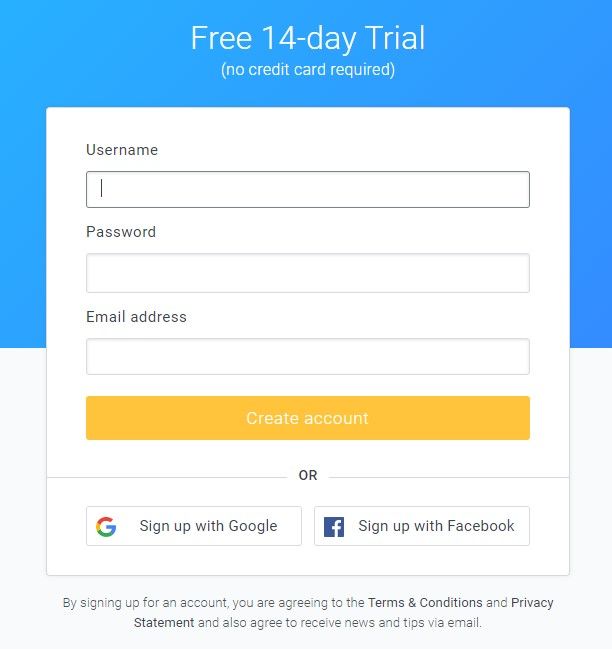 2. Create or edit your evaluation form
Once you're logged in, click the "Create New Form" button, choose an existing form template or start with a blank form. Click the "Create New Form" button at the bottom of the page, give your evaluation form a name, then click "Create".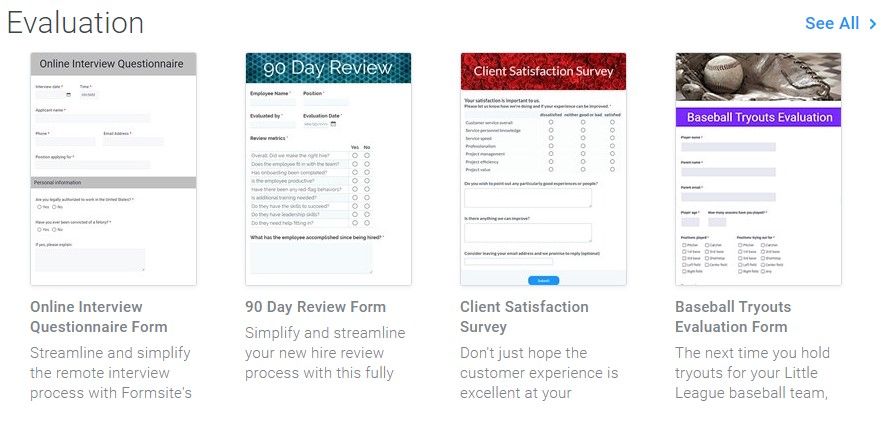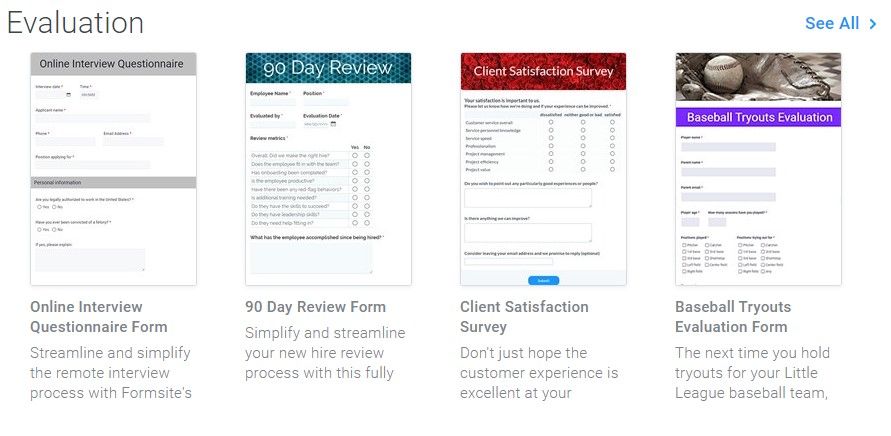 3. Build your evaluation form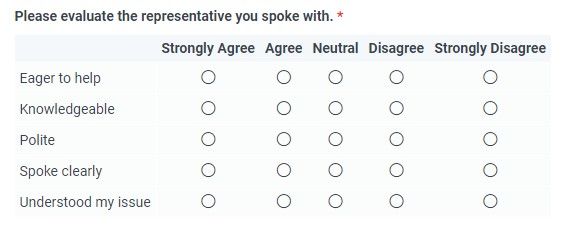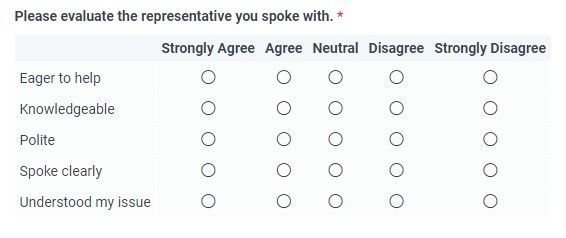 Whether you're working with one of our form templates or starting from scratch, use the Form Editor to add, remove, and edit form items. You can also add any customization or CSS alterations, as well as rules that are specific to your evaluation form.
In the form editor, moving the mouse cursor over items in the form displays the edit menu for that item. Along the bottom of the blue box, you'll see the links to "Edit", "Copy", "Delete", and "Multi-Select". These links allow you to edit the form item, copy it, delete it, or select with other items as a group. Choosing a group displays links (e.g. edit, copy, or delete) to affect the whole group. To move an item, hover over the form field with your mouse, then click and drag the form field to where you would like it to go.
Once you have your evaluation form items added, click the Style tab to customize your form's appearance. The three sections of the Style tab — Themes, Customize, and Advanced — make it easy to change fonts, colors, and images.
4. Set Rules for your evaluation form
Add rules for hiding and showing items under the Rules tab. For example, you can set a rule on a follow up question for advanced degrees to show only when the visitor says they have an advanced degree. You can also set rules to skip to later pages or show different Success Pages using Page Rules. To ensure your evaluation form functions exactly as you need it to, familiarize yourself with the Item Rules and Page Rules.


5. Test your evaluation form
To test your evaluation form, click the blue "View Form" button at the bottom of the form where the Submit button lives. Complete the form questions like a visitor would, and make adjustments if you notice something isn't quite right.
Find your submissions by clicking the Results Table link in the blue bar near the top of the page. In the Results Table, each result shows as a new row and you can click the view link to see each result's answers.
Do the results include all the information you need? Did the form rules you created trigger as you thought they would? Fill out the form as many times as you need with different answers to make sure every aspect works as you need it to.
If you want to receive emails after receiving each result, set up Notification emails. You can also use Integrations to send the evaluation form data to other services for continued processing.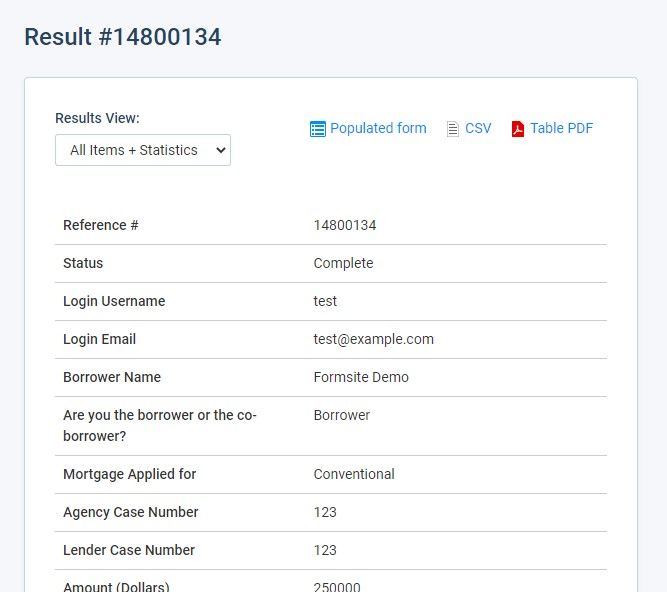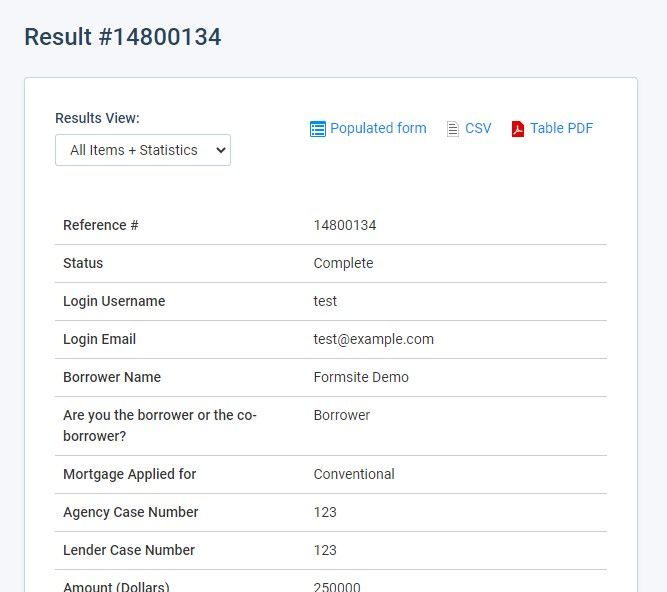 6. Share your form
Get your form in front of people by either embedding on your site, send the link through email, or post on social media. Find your form's link on the Share page by locating the Form Link, and the embed code under Share -> Embed Code. For WordPress site owners, install the Formsite WordPress plugin, then go to Share -> WordPress to get the shortcode to embed your form.
If you need any help while you're building, testing, or embedding your form, click the Support link in your account. Check our knowledge base or blog, ask a question, or email Customer Support.
Building evaluation forms with Formsite is straightforward and simple. Try it today!
Resources
Popular Evaluation Form Templates